Many people want to create a magazine blog for their company or personal hobby. Some people can create it by Wordpress. But many people doesn't know how to create it. So today I shall show you How to make magazine style blog. It is free and you can create it with Blogger. So follow these steps -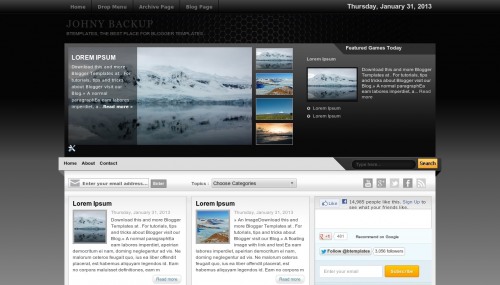 1. Sign in into Blogger and create a blog. You can also see
How to make a blog in a minute
.
2. Go to templates menu of your blog.
3. Click Edit-HTML.
4. Select Crtl+A in your keyboard
5. Tap delete on your keyboard.
6. Now
DOWNLOAD
this file.
7. When download complete open that file.
OPEN JohnyBackup
8. You will see a JohnyBackup.xml file in it.
9. Open it in Wordpad or Notepad.
10. Copy all the texts.
11. Now put all texts into your Bloggers Templates text box.
12. All done. Now save it.
You can edit your template's setting and add ads on layout menu. If you like this post, share it with your friends.